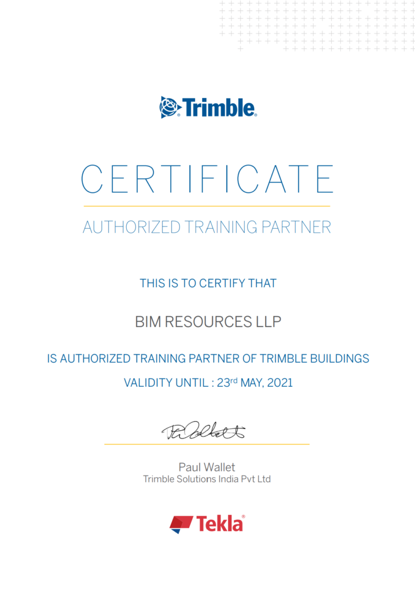 Start learning the basics of structural engineering, detailing, and construction management with the best BIM tool in your software portfolio, Tekla Structures.
BIM Resources, Bengaluru is an Authorized Trimble Tekla Training Centre, and we are pleased to inform that we are conducting Industry Oriented Training programs using Tekla Structures.
TEKLA SOLUTIONS Accurate, reliable information, as detailed as you need and always available, is necessary for a successful structural workflow. With Tekla software, your constructible design will promote error-free fabrication and successful construction.
Tekla's technology creates new opportunities for the disciplines in the construction industry: Tekla Structures is the first intelligent 3D BIM (Building Information Modeling) software and the most advanced on the market that provides an accurate, dynamic, and data-rich 3D environment. Essentially, the Tekla model contains all the information required from conceptual design, detailing, and manufacturing to construction of a project in a single environment.
Tekla Intelligent 3D Modeling Software for Steel Detailing, Fabrication and Erection
Tekla Intelligent 3D Modelling for Precast Concrete and Rebar Industry
Tekla Structures Powerful Structural BIM Software
Trimble offers a range of field and office software solutions designed to enable industries to improve productivity, quality, safety and sustainability. Tekla Structures is a software platform and part of a suite of specialized platforms offered by Trimble for construction used in more than 150 countries globally.
We choose to partner with Tekla Structures for Trainings as they are best in class for structural BIM modelling and detailing with almost limitless possibilities to customize and automation.
Streamline your work with Tekla Structures
Tekla Structures, the most advanced structural BIM software, lets you create, combine, manage and share multi-material 3D models packed with valuable construction information. You can use Tekla Structures throughout the project, from buildings and infrastructure conceptual planning to fabrication, construction and maintenance, for design, detailing and information management.
All your structural data in the accurate 3D model
With Tekla Structures, you can create accurate, information-rich 3D models that have all the structural data you need to build and maintain any type of structure. Tekla models can deliver LOD 500-the highest level of development possible-making them truly constructible. High LOD, as-built models minimize costly surprises, RFI's (requests for information) and result for more profitable projects.
You can also import, export, and link your data with other software solutions, digital construction tools, and fabrication machinery for smoother workflows. What's more, the as-built models cut back on costly surprises and requests for information (RFIs), making your projects more profitable. Read more about interoperability and our approach to Open BIM.
Tekla Model Sharing - makes remote work safe and practical
Bring people together from any location with ease
Tekla Model Sharing is a truly innovative BIM collaboration tool that can significantly increase the productivity of Tekla Structures users. With it, teams can work on the same model at the same time, but their work never collides.
Tekla Model Sharing is the only sharing technology that allows you to work without an internet connection, which is only needed when you want to sync the changes. Thanks to the innovative and patented workflow, Tekla Model Sharing only shares the changes made in the model, not the entire model. If you work online, you know that there are interruptions in internet connections, but that should not stop you from collaborating.
Tekla Structural Designer : Seamlessly combine design & analysis into one easy and efficient single model-based process.
Integrated design & analysis software enables engineers to deliver safe, effective, and rationalized design more quickly, regardless of structural material.  
Analyze and design buildings efficiently
Tekla Structural Designer is software that gives engineers the power to analyze and design buildings efficiently and profitably.
Fully automated and packed with many unique features for optimized concrete and steel design,
Design engineer maximize collaboration with other project parties, including technicians, fabricators and architects. Its unique functionality enables to integrate the physical design model seamlessly with Tekla Structures or Autodesk® Revit®, and to round-trip without compromising vital design data.
Intelligent synchronization
For total flexibility and to save valuable design and drafting time, the model can start life in Tekla Structural Designer, or alternatively in Tekla Structures or Autodesk Revit.
You can synchronize models multiple times with confidence, throughout the project lifecycle. Tekla Structural Designer provides powerful and unique auditing tools to highlight exactly what has been added, changed or deleted during integration. This reduces the risk of errors and ensures you are kept fully informed during the integration process.